10 Things to Consider when Buying the Perfect Bedding
On average, we spend a third of our time asleep. High-quality bedding has the power to make you healthier and happier. When you combine that with the right colours, textures and sizes to fit your space, you have the power to rework your bedroom environment into an oasis of calm.
Your sleep environment has a distinct impact on your waking life. Why not make it a positive one?
With our bedding buying guide, we hope to guide you towards your perfect bedding and to comfort, calm and a better night's rest.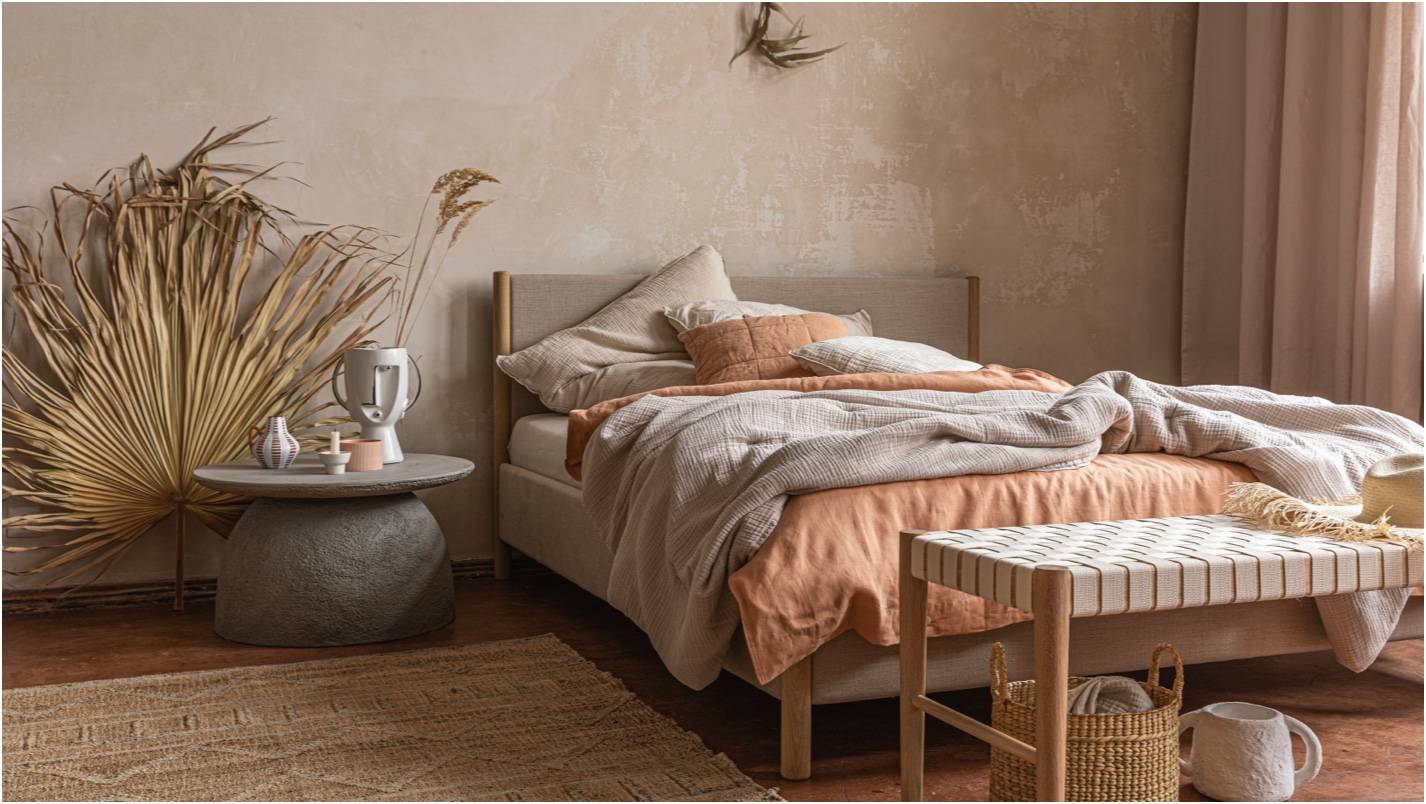 How to choose your perfect bedding...

Firstly, it is important to know the difference. The word 'bedding' encompasses a number of items, including pillows, duvets, bedspreads, bed linen, blankets and throws - all of which have their own unique benefits to aid your sleep.
Choosing the right bedding for your situation, what you like and what you find comfortable is the most important thing. So let's get started.
What size bedding do you need?

Knowing your space is the key to buying for any of your interiors. When it comes to your bed, for comfort's sake, a duvet or a bedspread is always better if it hangs a little bit over either side. Nice and cosy.
For single beds or a hearty blanket for the sofa, we recommend bedspreads or duvets in size 140x200cm, while for a double or a queen, we'd suggest a 180x230cm cover. Our larger dimensions, 240x265cm and 275x265cm are suitable for a king-size and above. Whichever size you prefer will have a different effect on your space, e.g. a more significant overhang gives a much more sumptuous impression.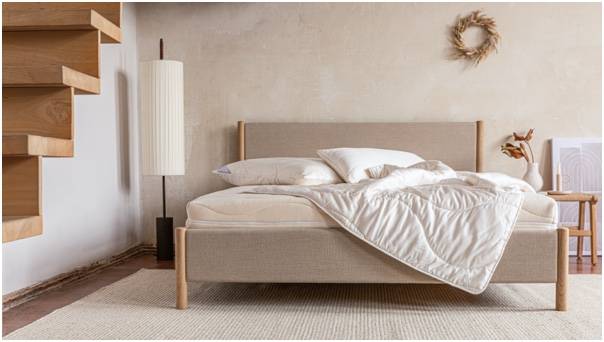 What bed linen should you choose?

As we mentioned, multiple layers can make the perfect bed - should you want them to. An URBANARA bed, for maximum comfort, would consist of your sheet, duvet, pillows, quilt/bedspread, linen and a throw or a blanket. Match these up, et voila - a bedtime oasis you'll never want to leave. This much bedding may sound elaborate to some, but let us take you through where each part fits.
Sheet - Covering the mattress, you can't create a masterpiece without a perfect base. Sleeping atop the perfect sheet makes all the difference.
Duvet - An entire range of options designed for a variety of lifestyles. Warm and plush, or cool and comfortable - your duvet is the heart and soul of your perfect sleep.
Pillows - Sink deeper into relaxation with the perfect pillow. All URBANARA pillows are hypoallergenic, a vital feature that makes falling asleep a little bit easier for everyone.
Bed linen - The key to unlock your style, the bed linen is where you can show your penchant for colour or your desire for clean, muted calm. Available in a variety of colours, patterns and materials, this is where you capture the essence of your space.
Quilt/bedspread - A lighter and thinner alternative to a duvet. Perfect for any season, and can also act as a top layer for extra snugness in colder months.
Throw/blanket - The icing on the cake. Nestle into the cosiest and the most portable layer of your bedding. Wrap yourself up anywhere with the softest and fluffiest blankets.
Do you like to sleep warm, cold, or just right?

How do you like to sleep? Do you prefer cool and comfortable or wrapped up warm and snug?
Ideally, the body and your bedroom should be slightly cooler to get the best sleep results, but how you do this is up to you. Turn the thermostat down and grab your cosy duvet, or leave the heating alone and work with linens and other breathable bedding.
Finding the perfect texture for your bedding...

During winter, there's nothing better than slipping into a cosy, warm bed. A thick, down duvet with cotton or wool upper layers will keep you toasty all season long.
Moving into the warmer months, you may want to swap this out for lighter materials and textures. The natural breathability of linen or the cool, crisp surface of percale will be much more suitable. Whether you know it or not, the textures you're sleeping in are making all the difference.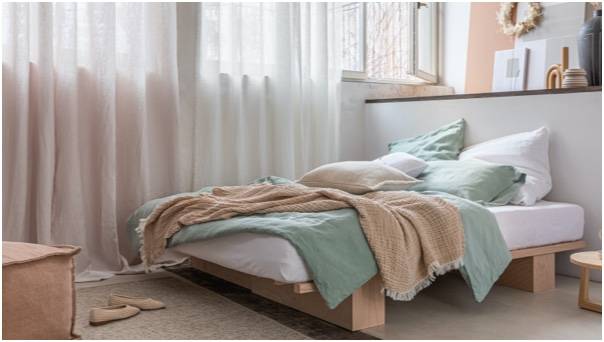 Which materials are best for your new bedding?

Like texture, the material of your bedding has unique benefits to aid your sleep.
Linen bedding, for example, is cooling in summer, and insulating during winter. It's the most beautiful bedding throughout all seasons. Cotton percale bedding adds a dash of everyday luxury, whereas cotton flannel is warm, cosy and breathable. Jersey bedding is as good as sleeping in your favourite t-shirt, all the time. The majority of URBANARA bedding is made from natural components, making it comfortable for you and your body and good for the planet. With entirely vegan options like kapok available too - you can be completely ethical whilst ensuring your most excellent sleep.
How to choose bedding colours...

One of the most exciting elements of setting up your dream bedroom must be choosing colours for your bedding. Is your desired effect peaceful and serene, with floaty creams and light beiges? Or do you feel like something earthy and deep, with rich greens and muted greys or browns that lull you into a deep sleep? The colour you choose for your space says a lot about you and what you want to get from it.
The best part? It's never really too late to play around with colour. Change with the seasons, or mix it up with pops of your favourite shade. It's entirely up to you - your bedroom is your canvas.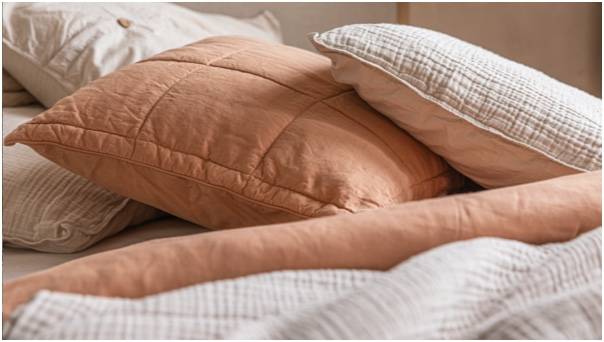 Taking care of your new bedding...

Caring for your bedding will ensure the longevity of your product and its benefits, as well as keeping you clean and comfortable for longer. As a general rule, we don't suggest using bleach on any of your items, as it can significantly damage the natural elements. Most products are machine washable and can either be ironed or tumble dried. However, specific care instructions are available on our website, and on individual product pages under the 'Details & Care' tab.
How to manage pets around your new bedding...

Whether you feel the bed is a human only zone, or you think there's nothing better than some four-legged company - there are ways to protect your bedding. Blankets and throws are an incredible, and low-cost investment to protect the top layers of your bed, whilst also adding a nice pop of colour to your space too. Try, if you can, to match the colour to fur if they're a shedding breed, ie. dark fur - dark layers, etc. That way, even if there is shedding, it's not going to stick out and make your bed look unruly. Any accidents don't have to be a cause for concern either. Easy to maintain fabrics like cotton, or less reactive ones like merino wool will be ideal to easily maintain and eliminate potential odours.
The main thing to keep in mind when it comes to buying your perfect bedding is knowing your own taste. No matter how you would like your bedding to be, whichever colour, texture or design, we offer a wide range of timelessly stylish options.
Find your oasis with URBANARA bedding.