Buying Guide: Finding Your Perfect Blanket
Blankets are the embodiment of comfort. Whether you're cuddling up on the couch for an evening in, or you just need some you-time, a blanket is a perfect option when you need some added cosiness.
Finding the perfect blanket or throw can be a little trickier than you think. So, we've created a blanket buying guide with a few things to consider, some tips, and some general advice to help you make the right choice.
Let's get started.
Considering the primary use for your blanket will go a long way when making the right choice. Will it be used for cuddling up on the couch on a cold winter's day, or will it be used as an extra layer when those warmer nights start to cool?
It seems an obvious thing to consider, but discovering your blanket isn't warm, thick or even big enough can be frustrating. Your use of the blanket will determine your colour, material, weight, and texture. And if you have pets, you might have to consider how they'll use your blanket, too (They do tend to quite enjoy our blankets.)
How to find the perfect blanket for every season?

Let's talk about the seasons. Seasons play a big part when deciding what blanket to choose. For winter, a thick woollen blanket, cotton fleece, Alpaca wool or cashmere are the best options when you want to enjoy some extra warmth during the colder seasons. For the warmer months, blankets made from 100% cotton are still wonderfully soft but offer better breathability and airflow, so you can remain comfortable without overheating.
However, blankets and throws made from Merino wool, and cashmere are the perfect options for year-round comfort. We'll talk a bit more about why further down.
What are the differences between wool, alpaca and merino wool blankets?

Considering what material is best for you is one of the most important when choosing your blanket. We'll run you through some of the best blanket materials, their qualities and what seasons they're compatible with.
Wool blankets: Wool blankets are an ideal choice for the colder months. Wool is naturally comfortable due to its spring-like fibre structure, and whilst wool is also temperature regulating, heavyweight wool blankets are perfect for those colder spaces where warmth and comfort are essential. Wool is also naturally hypoallergenic, anti-microbial, and dirt repellent, perfect for those with sensitivities or allergies.
Alpaca wool blankets: Alpaca wool is an essential winter material. Alpacas are native to the Peruvian mountains where the temperature can fall well below zero degrees. As such, the wool of the Alpaca is incredibly insulating so it can remain warm throughout the colder seasons. Alpaca wool is also wonderfully soft; which makes it an ideal choice for those of us with sensitive skin, or little ones who need a more delicate material to rest on. Despite the fact Alpaca wool is extremely warm, it's also breathable so you can rest comfortably throughout the day or evening.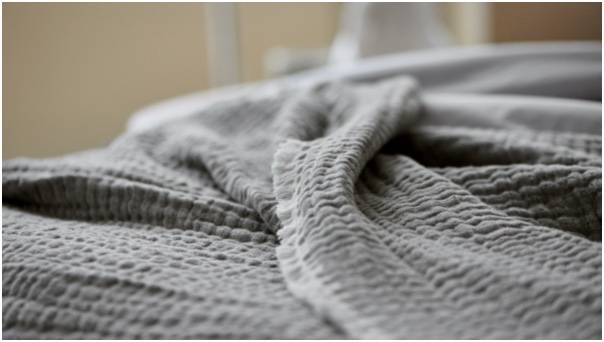 Merino wool blankets: Merino wool blankets are a staple anytime of year. We mean it, they're our go-to option for a year-round blanket. This is because merino wool fibres are both temperature regulating and breathable, keeping you warm in the winter, and cooler in summer. Merino wool is also soft and lightweight, without losing its durability. Plus, wool doesn't trap odours which means it doesn't need to be washed as often. We'd consider it a superb all-rounder.
Cashmere blankets: If you're looking for a premium blanket, cashmere could be the one for you. The fibres of cashmere are incredibly thin, which is what makes it so soft, despite the small diameter of the fibres, cashmere is up to 8 times more insulating than regular sheep's wool. Cashmere also has a natural stretch, meaning you move easily and get comfortable however you like, without being restricted. Though cashmere is more insulating than wool, it's natural moisture-wicking properties, and breathability means you can remain cosy, and warm without overheating. Plus, cashmere has natural hypoallergenic properties, so your little ones can enjoy it, too. For us, cashmere is a wonderfully beautiful material for a seasonless piece.
Cotton blankets: Cotton blankets are ideal for those warmer months. Cotton is highly durable, and holds up well through multiple washes. So if you have pets, or little ones, this could be a good option for you. Cotton is also extremely breathable, making it an ideal choice for those evenings where the sun has set, and the cool night starts to set-in. Cotton is also luxuriously soft, so you can remain enveloped in total comfort.
How to find the best blanket for a pet?

Our pets are everything to us, even when we find those rogue hairs stubbornly stuck to the rug, or we trip over a discarded toy. Finding the perfect blanket which is suitable for a pet can be challenging, but it doesn't need to be. Considering how your four-legged friend will interact with your blanket is key to choosing a blanket that's suitable for you and for them.
Consider your blanket colour, if your pet has dark fur, we'd recommend opting for a darker blanket and vice-versa if their fur is light. We know that sometimes, accidents can happen, so consider a blanket that is less reactive to odours such as merino wool or one which is easy to maintain such as cotton.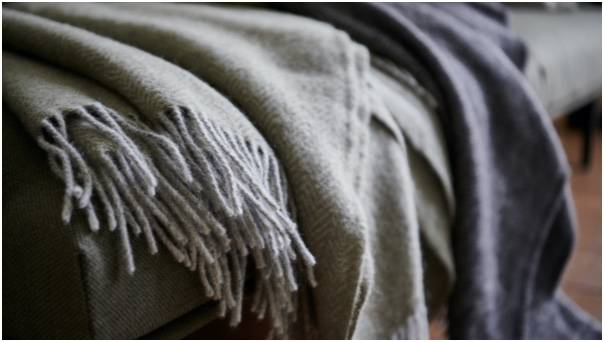 What colour blanket should I be looking for?

A blanket's primary function is to provide you with comfort, but that doesn't mean it needs to look out of place within your home. Consider your colour schemes when looking for a blanket and you'll find the perfect option which combines comfort, with effortless style. A well-chosen blanket or throw can also balance your space or become a feature to off-set your colour scheme.
Also, consider who'll be using the blanket. Whether it's your little ones or a pet, who'll be using your blanket can have a significant impact on colour. If accidents are a little more prone, maybe opt for a darker colour. Matching your blanket to the colour of your pet's fur may help to disguise noticeable rogue hairs.
Your final considerations...

A blanket should be one of those wonderfully comforting pieces which provide you with warmth, comfort, and joy.
Whilst a blanket is that piece you go-to in moments where some extra comfort is required. They can also be a wonderful addition to your space aesthetically. Blankets and throws are wonderfully versatile pieces that can provide both you and your space with everything you need to create a home that's uniquely yours.