World Bee Day with Cuddling Carrots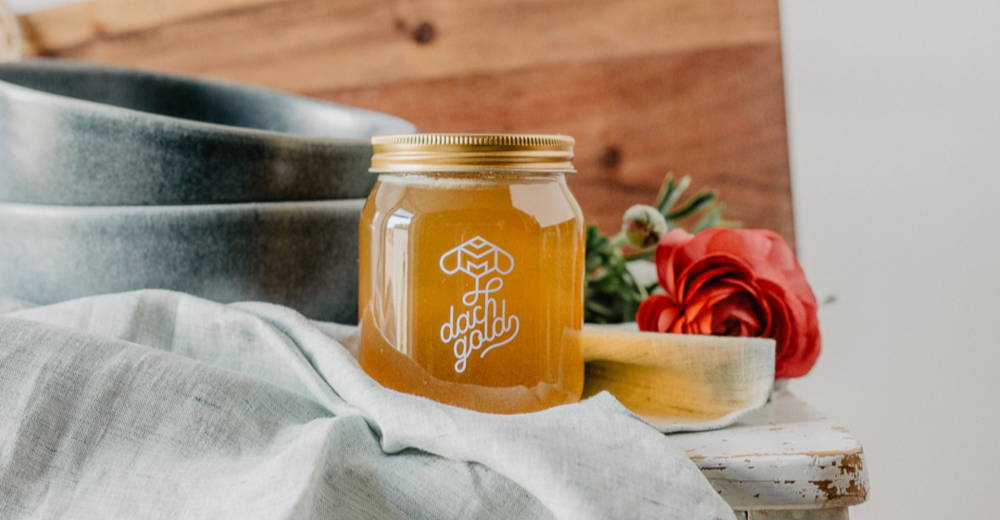 To celebrate World Bee Day, we asked Laura and Timon of Cuddling Carrots, one of our favourite food blogs, to share two of their best honey-based recipes with us; we also asked them all about their work as city beekeepers and their own honey, Dachgold.
---
Laura and Timon, when did you start working as beekeepers and producing your own honey?
We've had our bees since 2017, starting with one hive, and now we have four. They live in Munich, on a high rooftop, so that means we're city beekeepers. This gives us versatile and varied honey, because we have no rapeseed fields nearby, but thousands of different blooming flowers nearby.
What have been the biggest challenges?

There are always challenges, because no two bee colonies are the same and you can't 'tame' them. As a beekeeper, you always try to respond to and support your bee colony. The biggest challenge is probably the Varroa mite, a parasite that exists in every bee colony worldwide. We try to limit this parasite through various measures, but you can never get rid of it; there is just a damage-threshold we try to stay below. The Varroa mite is similar to a tick on the bees, and damages them.
Is your own honey enough for all your fantastic cooking sessions?

Yes! We operate extensive beekeeping, but the welfare of our bees is always in the foreground, not the honey yield. Nevertheless, we were able to harvest about 60 glasses of honey last year.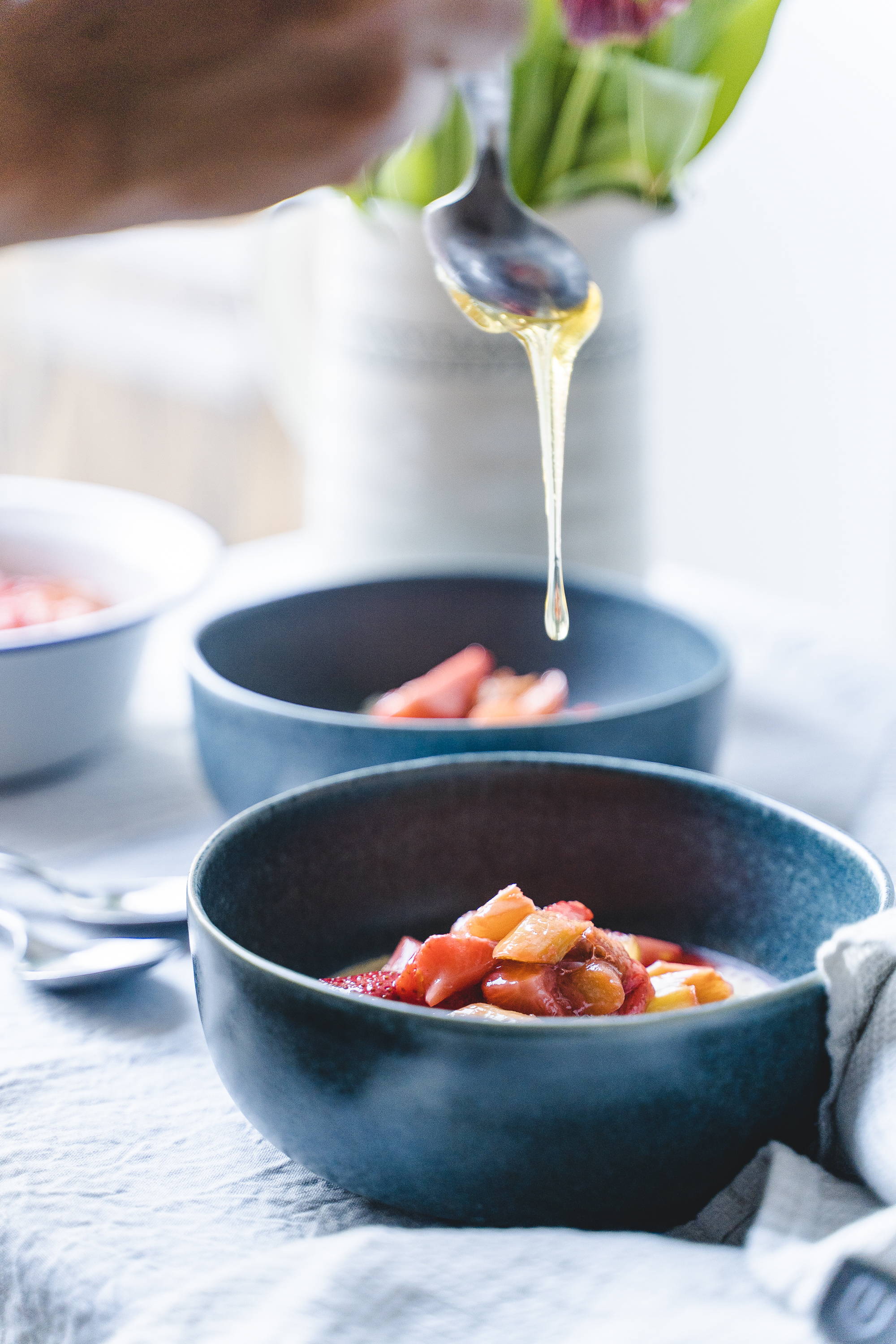 What are the best things to look out for when buying honey?

Always buy from your local beekeeper! The big supermarket brands mix honey from many different countries and territories together, which often does not have much to do with real honey.
---
Creamy rice pudding with strawberries and rhubarb stewed in honey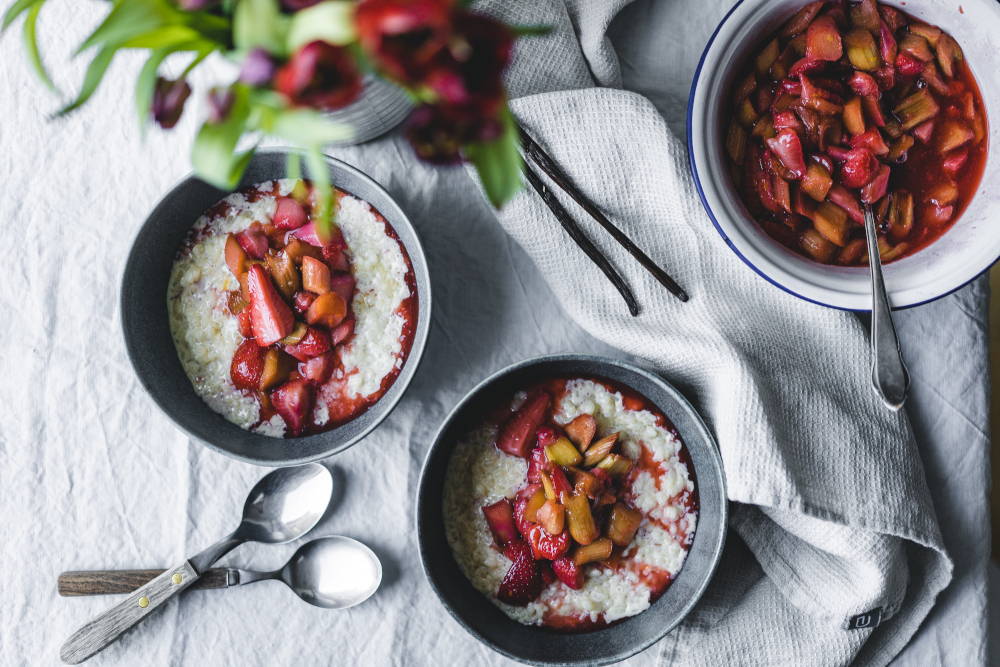 Serves 4
3 sticks of rhubarb
250g strawberries
5-6 tbsp. honey
1.2l milk
1 vanilla pod
25g butter
200g pudding rice
200g mascarpone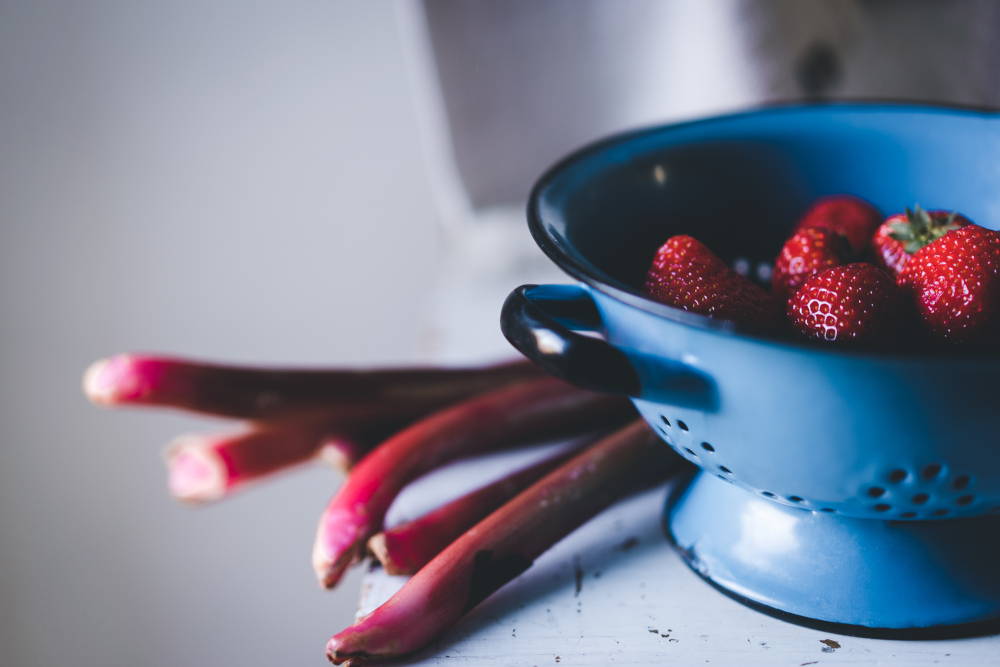 Preheat oven to 175 degrees celsius. Was the rhubarb and strawberries. Cut ends off rhubarb and cut each stick diagonally into 3cm pieces. Cut strawberries into halves. Place both in casserole dish and mix in 2tbsp. honey. Place in oven for 10-15 minutes.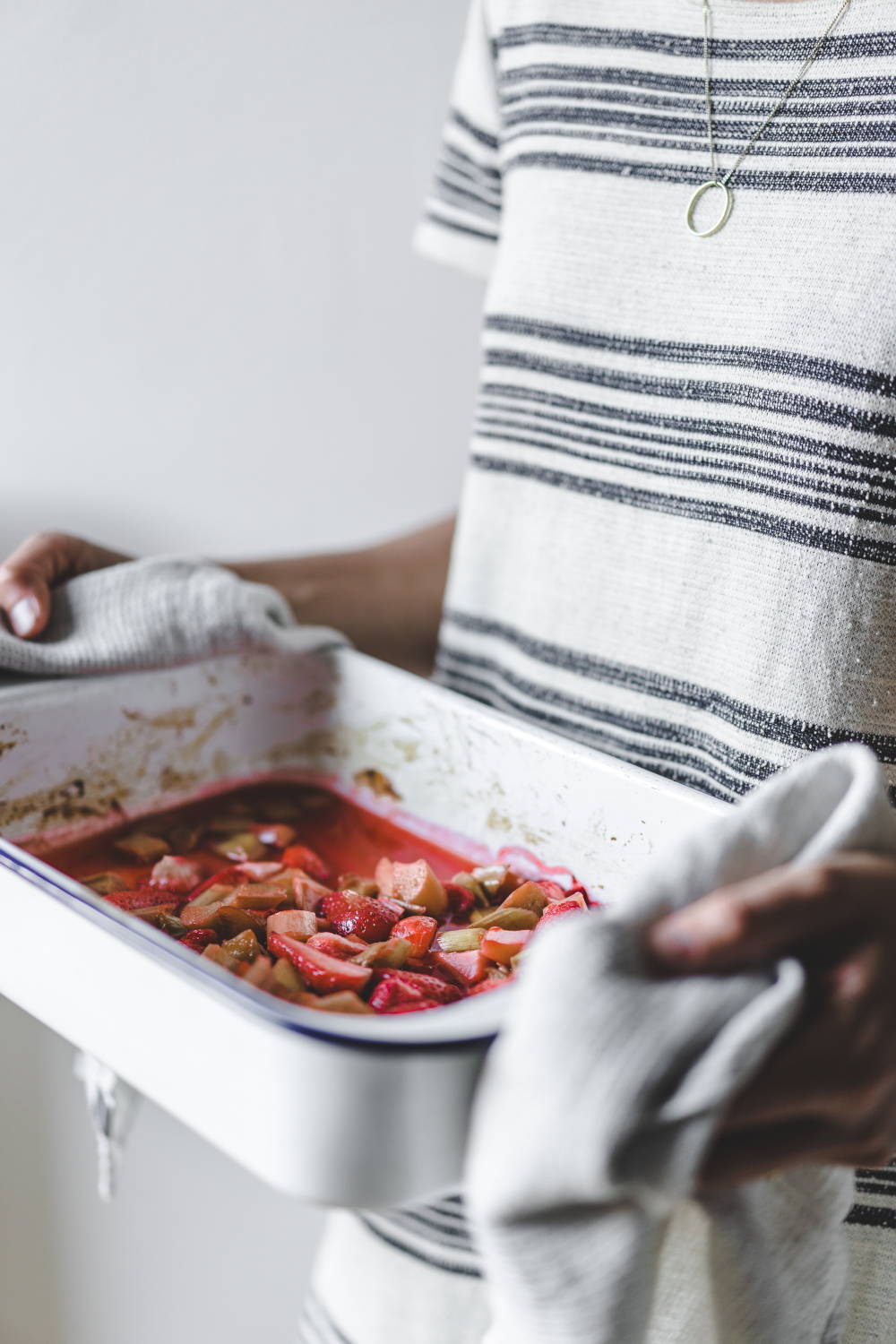 Mix the pudding rice, vanilla pod and half of the milk together in a small saucepan and warm over low heat. Melt the butter in a separate pot and stir in rice pudding mix. Gradually add in the remainder of the milk whilst constantly stirring until mixture thickens. Switch off heat, cover pot with lid, and allow to sit until rice is fully softened. Stir in mascarpone and 3-4 tbsp. honey.
Distribute the rice pudding into four bowls, spread rhubarb and strawberry mix on top, and serve.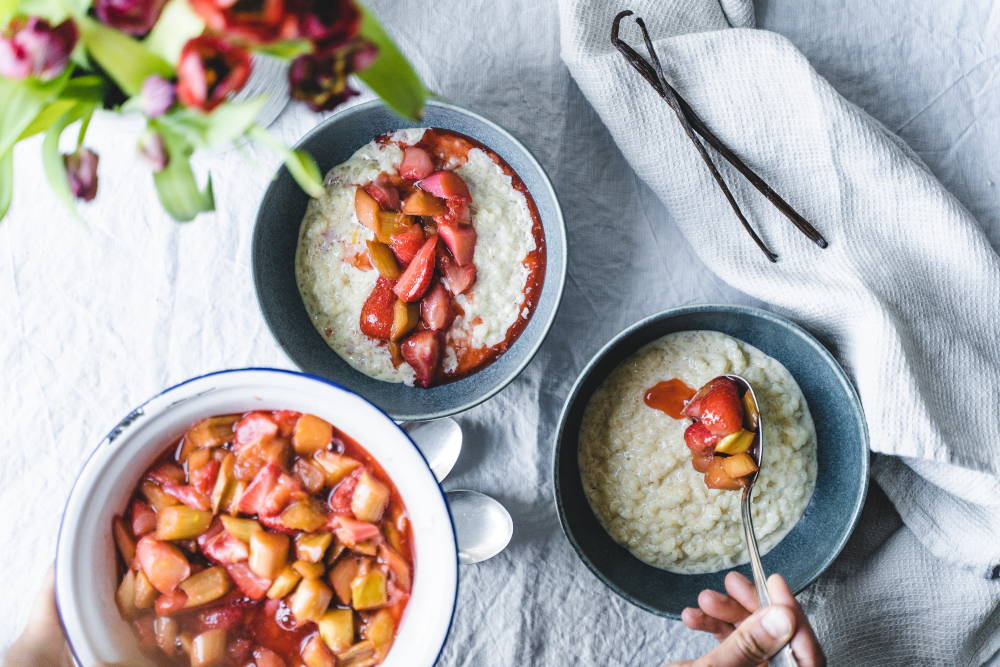 ---
---
Toast with ricotta, spring vegetables braised in honey and blueberries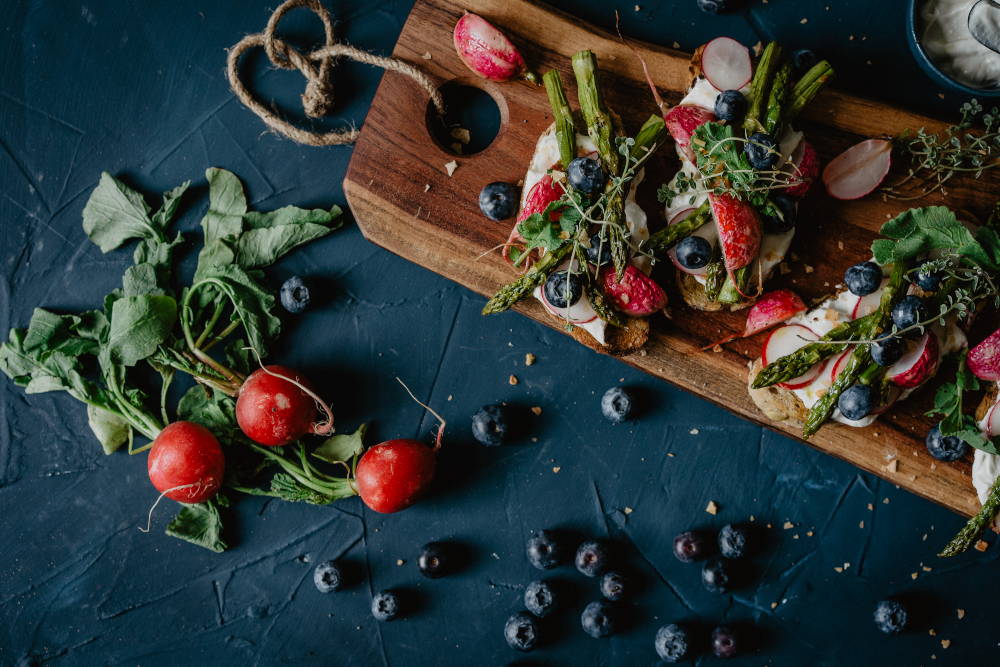 Serves 4
1 bunch of green asparagus
1 bunch of radishes
A few sprigs of lemon thyme
6 tbsp. olive oil
5 tsp. honey
Salt & pepper
300g ricotta
Zest of 1 lemon
8 slices good quality white bread
1 handful blueberries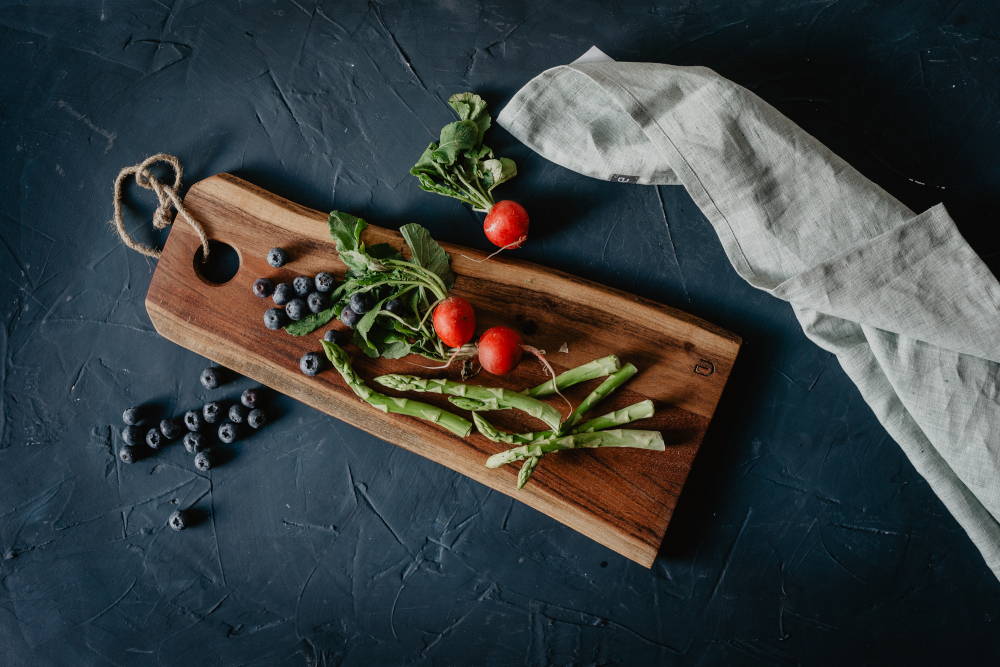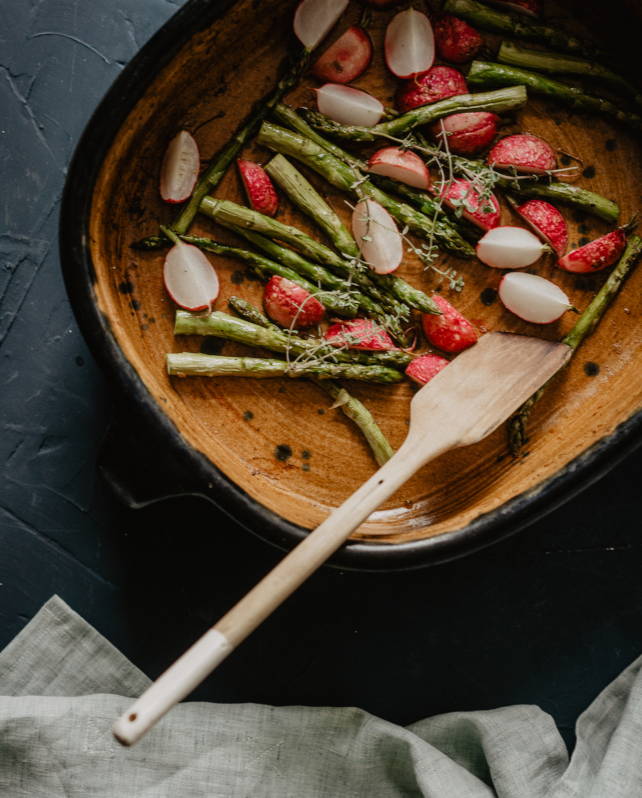 Preheat oven to 200 degrees celsius. Cut the ends off the asparagus and cut in half lengthways. Cut three radishes into thin slices and set aside. Cut remaining radishes into halves. Mix 3 tsp. honey, 3 tbsp. olive oil, and salt and pepper to taste with the vegetables and place in roasting dish with lemon thyme. Cook in oven until radishes have softened.
Mix the ricotta with two tsp. honey and grated lemon zest. Spread the rest of the olive oil onto the slices of bread and toast under the grill until crisp, then allow to cool. Coat the bread with the ricotta mixture, place the radish slices on top, and top with the braised vegetables. Sprinkle blueberries on top, drizzle with lemon juice, and dust with coarse sea salt to taste.
---
---
Fancy trying Dachgold honey for yourself, along with some new kitchen accessories?
By entering our competition on Instagram, you could win your own jar of Dachgold honey fresh from Laura and Timon in Munich. That's not all though; you'll also be treated to some stunning new URBANARA kitchen accessories – the Denai acacia wood chopping board, Malhou stoneware bowl, and Minija linen towel set – so you can prepare your delicious honey-based recipes in style.
To enter:
Follow both Cuddling Carrots and URBANARA on Instagram. Comment on the competition post tagging your most honey-loving friend who might like to enter too. That's it!