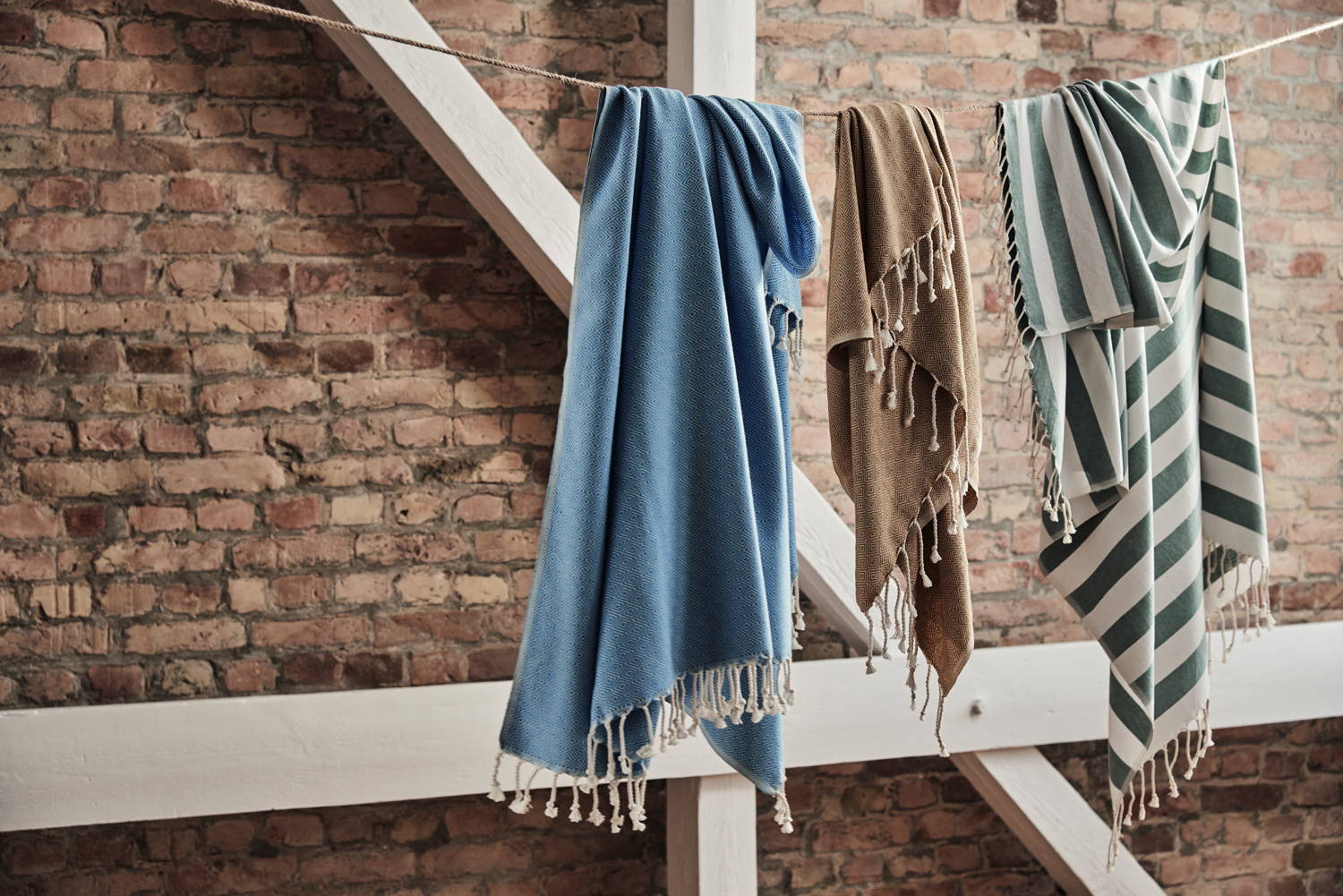 Hammam towels have a long, rich history, their lightweight and absorbent nature making them more practical than the standard bath towel, and favoured over their thicker counterparts for centuries. Before times when houses were furnished with a bathroom, the traditional hammam bathhouse, originating in Rome but a concept borrowed in the Middle East, was an important part of everyday life, fulfilling a significant social and physiological role in society. While the bathhouse is considered less of a weekly ritual nowadays, the use of the hammam towel - the accessory which stemmed from this humble tradition - has persisted. Making its way to pools, beaches, and en suite bathrooms around the world, this once 'simple' bathing aid has exploded in popularity thanks to its myriad qualities and versatile uses. There are few accessories that excite us more, in fact; so why use a hammam towel over a standard towel? Here are four reasons it's about to become your new favourite companion.
I. 6-in-1: More than just a Hammam Towel
Turkish bath towels are robust, durable, soft, light and quick-drying. Their size and attractive designs make them suitable for use far beyond the bathroom for a versatile summer accessory.
Aside from in the bathroom, a hammam towel can be used as a scarf, a summer throw, a picnic blanket, a gym towel, and a yoga mat cover.

With their plaid finish and elegant designs, hammam towels have a distinct summery flair so can even be used as a tablecloth.


II. 3 Hammam Towels = 1 regular towel
A hammam towel weighs only around a third of a standard terry-weave towel in the same size, but retains its high absorption capacity. This makes them less bulky to store, and perfect to tuck into your backpack, picnic basket or beach bag when you're on the go.

And above all – they're the best to take on holiday, because they're so versatile and practically overweight-baggage proof.


III. Turkish towels are designed for Turkish conditions
Bathhouses are very wet and very hot. Turkish bath towels, therefore, need to be lightweight and very absorbent, as well as fast drying. Tick, tick, tick.

Because they're flat-woven without the conventional loop/pile construction, they trap less allergens and are ideal for allergy sufferers too. A special feature of these towels is the character of the material, which will get suppler, softer and more absorbent with each wash. Bonus!


IV. Peshtemal towels – like their history – are a thing of beauty
Because the fibre is thinner and the weave is flat, more intricate designs can be achieved for a hammam towel than a regular terry-woven towel. Woven patterns or clean stripes with tassels make their designs simple but refined.

The common size is around 90 x 180 cm or 95 x 180 cm: amply sized to wrap up in or picnic on, and often finished with fringed edges for that extra bit of summery flair.


---
Share this article
---