Pack up a Perfect Midsummer Picnic
Summer brings many special moments, from refreshing dips in the local lake, to glasses of wine with friends on balmy evenings; our personal favourite is a perfect midsummer picnic, munching on tasty treats and basking in the sun's warm rays. We've found the most faultless formula for the ideal picnic set-up, from the comfiest blankets to the most delicious homemade hummus.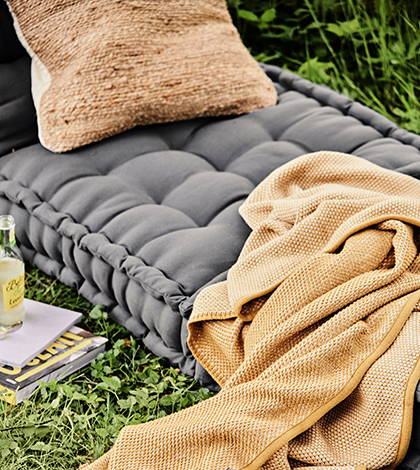 To start with, find your most idyllic picnic spot: whether a buzzing inner city green or secluded lakeside haunt, this is entirely down to personal preference. Once you're finished location scouting, the fun begins – it's time to pick out some stylish outdoor accessories to elevate your picnic beyond the everyday into a truly memorable event.
Build your base first: if you've opted for a natural, lakeside retreat, a plush and padded picnic blanket with waterproof backing is the ideal canvas to spread your al fresco treat on. If you're picnicking a little closer to home, roll up a recycled PET rug for a truly elegant set-up – these lightweight yet durable rugs are ideal for lounging on in the sun thanks to their super soft finish and outdoor-friendly fibres.
Once your canvas is laid, it's time to get creative. From impossibly comfortable quilted cushions, to delightfully chic authentic stoneware crockey, the world is your oyster when it comes to styling your picnic. Go for a cohesive colour scheme throughout for a sophisticated air, matching hues in your blanket or rug's pattern with your crockery; if vibrancy is more your thing, try bold block shades such as yellow and pink for punchy impact. Make sure your picnic guests stay comfortable with plenty of padding by piling up our plush floor cushions – they're sturdy enough to perch a small plate on, too.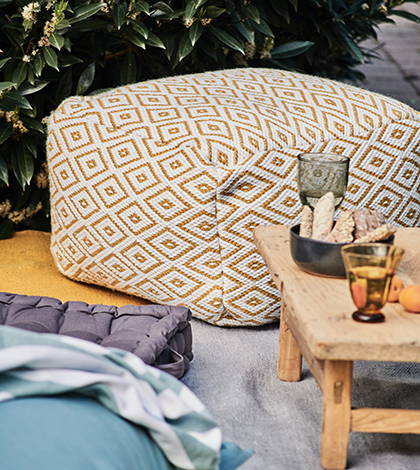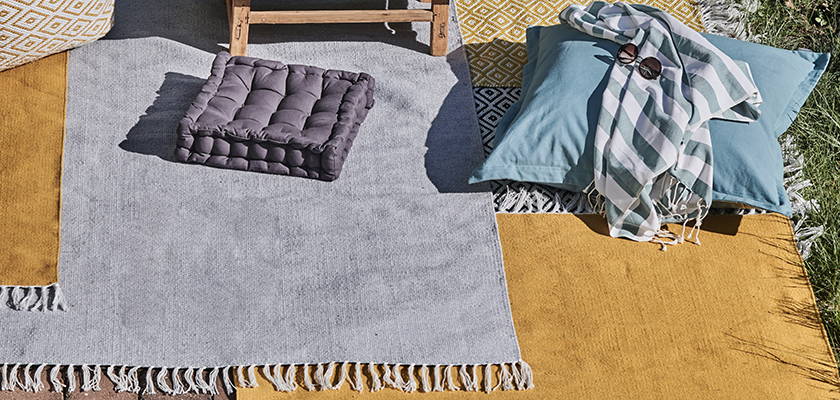 ---
---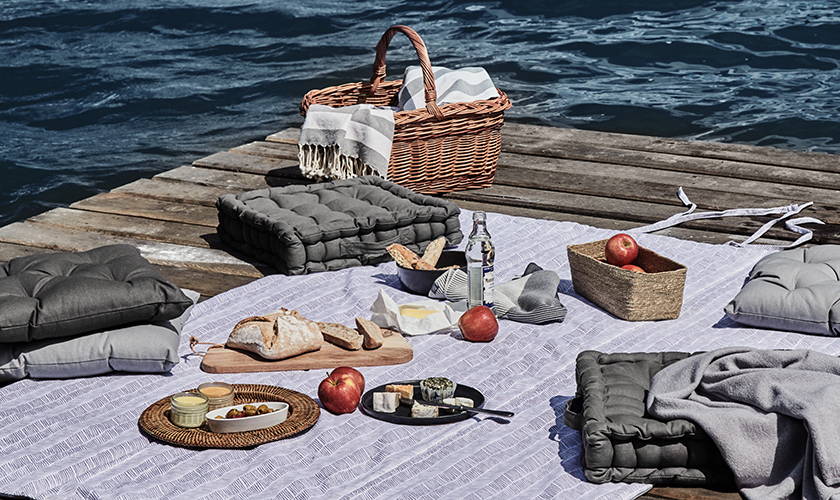 Finally, the most essential element: the food. We love food that's made for sharing, and our team's picnic favourites range from olives, to freshly baked sourdough bread, to fresh strawberries dipped in cream. Go homemade to really impress guests – our easy and delicious hummus recipe is perfect with a fresh loaf or potato chips and is bound to be the start of the spread. Bon appetit!
---
400 g tin chickpeas
1 small clove garlic
1 tbsp tahini
1 lemon
Extra virgin olive oil
Drain chickpeas and place in food processor.
Peel garlic and add to chickpeas.

Add tahini, a squeeze of lemon juice, and 1 tbsp oilve oil.

Add salt to taste, and blend.

Add water to loosen, if needed.
Serve with fresh bread and crunchy veg – enjoy!
---