How to find the perfect blanket

Whether comfortably wrapped around you, elegantly draped over the sofa or folded at the end of the bed - the right blanket brings a dash of cosiness and style to your home. From luxurious cashmere to vegan cotton: in our blanket guide, we introduce you to the materials that make up our favourite pieces.
When it gets cold, it's best to wrap yourself in blankets that insulate properly. Alpaca wool is warmer than sheep's or lamb's wool, thanks to its hollow fibres. As the name suggests, this wool comes from alpacas, native to the Peruvian highlands, where temperatures can regularly drop below freezing. The fine, soft alpaca wool has a slight sheen and feels silky smooth whilst being durable and lightweight.
Our Asare blanket is made from the finest fibres of baby alpaca wool, hand-sorted by skilled textile artisans in Peru. This time-consuming process creates luxurious Royal Baby alpaca wool, which feels as soft and delightful as cashmere. What is the difference between alpaca wool and baby alpaca wool, you ask? You can learn this and much more about alpacas here.
Cashmere wool comes from the light, downy undercoat found under the chin of goats and is combed out by hand every spring, making cashmere one of the most valuable wools in the world. This incredibly soft and delicate feel with a velvety finish makes for a luxurious material that turns any blanket into a sumptuous delight. The wool is lightweight yet around eight times warmer than other types of wool - perfect for cosy moments in the colder seasons.
Why not take a look at our Foligno cashmere blanket? A graphic herringbone pattern is paired with a colourful border, meaning you can decide which colour best suits your interior and look forward to getting snug. If you're a fan of fringe, and really, who isn't - you have to discover our Nerva blanket.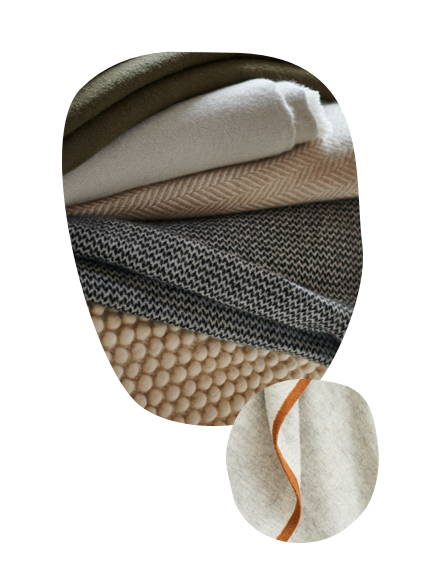 Comfortable cotton blankets

Cotton is a popular fabric, especially for lightweight blankets. The smooth yarn is soft, doesn't fluff much and is easy to care for. As the material is not as fluffy as animal wool types, cotton blankets are ideal for not-too-cold days so it doesn't trap the heat. In addition, cotton is breathable, and thanks to its smooth structure, it is also suitable for allergy sufferers, as dust cannot settle. This structure also allows cotton to be dyed well, making colours shine. Those who prefer animal-free products should also be happy about this vegan fabric.
For our organic cotton blanket Sierra, we use dyes from leftovers from the food industry. In our Essentials collection, Sambro dazzles with a simple yet colourful design. Our organic cotton merino blanket Luso is the right choice if you want something special. Its merino content ensures even more softness, while organic cotton requires less water and pesticides in cultivation. For all fans of innovation: our SeaCell blanket Praia is good for the planet and even better for your home! SeaCell, made from algae and cellulose, produces wonderfully soft, supple material - plus, it's completely biodegradable.
Beautiful pure new wool blankets

Lamb and sheep's wool are robust and durable fibres that retain heat well. This wool yarn is thicker and fluffier than cotton, but wool can also be perceived as somewhat rough and scratchy on the skin. Especially for the colder months, a woollen blanket is a warming boon on top of a thick duvet. Natural wool is also extremely long-lasting, keeping its shape for years.
Our absolute bestseller? Our Gotland collection. The Gotland blanket is pleasantly heavy - for a wonderfully cosy, calm feeling. The fibres, a little rougher at first, become softer with every snuggle. Our Palini woollen blanket is our first woollen blanket made with recycled wool fibres from unused leftovers from our production. This means charming colour accents, a shorter supply chain and a charming piece for your home.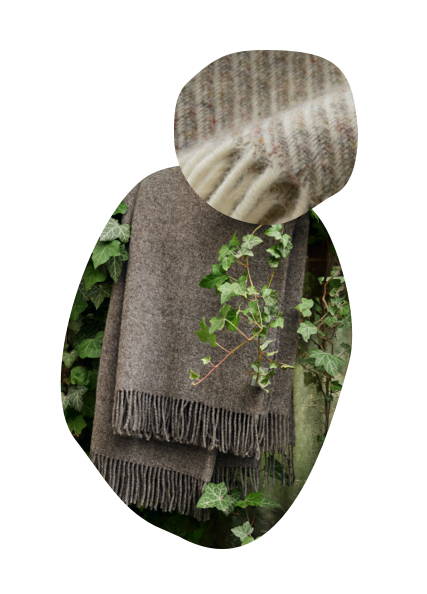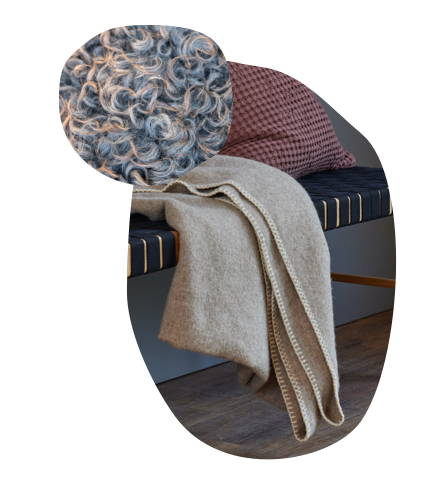 Soft, silky, light: merino wool is the perfect companion for cooler evenings. The material regulates temperature and is pleasantly warm - without overheating. Merino wool comes from the Merino sheep, a North African breed renowned the world over for its fine wool. Merino sheep are shorn completely, so the animals give up to two to four kilograms of wool a year. The wool of the Merino sheep is soft, very fine and curly. It is perfect for cosy evenings on the sofa at home.
We are particularly proud of our alpaca and merino blend blanket, Corcavado. Two fine wools, and one especially fine and cosy result.