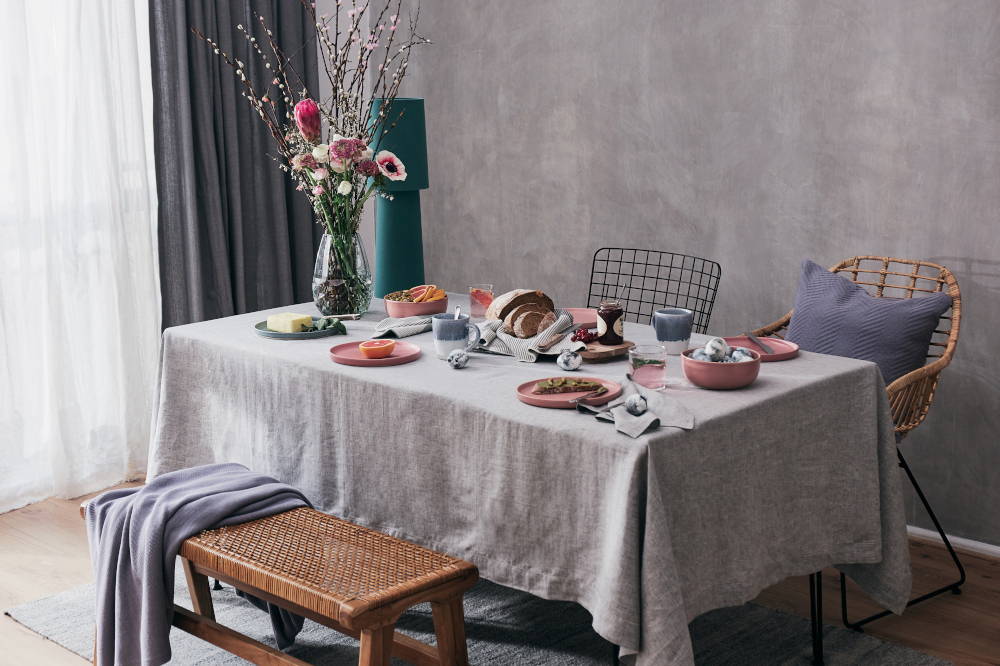 Spring is in the air: sunshine yellow daffodils are springing up all around us, blue skies are a daily occurrence, and of course, Easter is underway. The perfect excuse for great brunch food, a get-together with friends and family, and a stylish table fit for the occasion, Easter brings us not only childhood memories of egg hunts and bunnies, but also an opportunity to celebrate warmer and brighter days.
We've concocted the perfect recipe for a delightful Easter brunch table, from pastel pink stoneware crockery, to a breezy linen tablecloth, to decorative painted eggs and colourful fresh flowers. Our wholesome spelt bread recipe and guide to creating these cute marbled eggs will ensure brunch guests are kept happy, and your Easter table is a delight for all.
---
Hard boiled or blown white eggs
Place a 4cm high layer of whipped cream or spray cream in a casserole dish.
Add drops of food colouring to the surface of the cream in layers, and spread gently around with a toothpick to create a marbled effect.  
Dip the boiled eggs briefly in vinegar and dry.
Put on gloves and roll the eggs gently in the cream until they are covered.
Place carefully into the egg carton and leave to soak for 30 minutes.
Gently wipe away the cream with kitchen paper and your eggs are finished.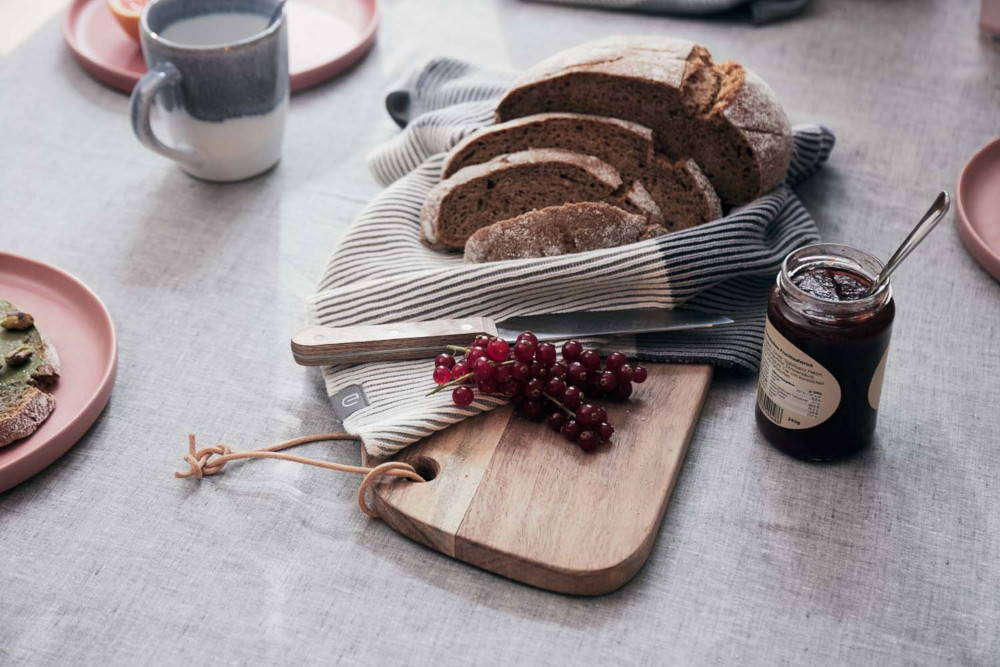 500g organic wholemeal spelt flour (plus 1-2 tbsp for dusting)
7g fast-action dried yeast
You will also need:
Tastes great with:
Pistachio spread
Hummus
Gouda cheese
Fresh berry jam
1: Put the flour and yeast into a food processor or mixer and mix thoroughly. Add the salt and mix well. Make a well in the centre.
2: Mix together the oil, honey and lukewarm water in a separate bowl. Pour this mixture into the well you have made in the flour, then mix at a slow speed until the ingredients form a soft dough. Add a little extra water or flour as needed.
3: Tip out the dough onto a floured worktop and knead for 10 minutes until smooth but firm.
4: Place the dough in a bowl and cover tightly with cling film. Leave to rise until doubled in size – usually 1-3 hours. You can also leave it overnight in the fridge.
5: Tip your dough out onto a lightly floured worktop and knead gently for 1 minute to evenly distribute the bubbles of gas.
6: Shape into a ball and place on a sheet of baking paper. Dust lightly with flour, then cover loosely with cling film. Leave to prove until doubled in size, usually about 1 hour.
7: Heat the oven to 230°C/210°C fan/Gas 8. Put the baking tray into the oven to heat up and put a roasting tin on the bottom of the oven.
8: Sprinkle the dough with a little more flour, then slash the top deeply with a knife. Transfer the dough on its baking paper to the hot baking tray, then into to the oven. Pour some cold water into the roasting tin to produce extra steam in the oven.
9: Bake for 15 minutes, then rotate the tray and reduce the oven temperature to 200°C/180°C fan/Gas 6. Bake for 17–20 minutes, or until the bread is golden brown and sounds hollow when you tap the base.
10: Transfer the bread to a wire rack and leave to cool completely before slicing.
---