8 Things to Consider when Buying a Rug
A rug is essential when adding the finishing touches to your home. It's one of the most important pieces you can add to your space, both for design and functionality.
Deciding what rug to choose will primarily come down to the interior of your space, placement, and how you'll be interacting with it. However, there's a few other things you might want to consider when you're looking at what rug is the one for you.
To help you along, we've created a rug buying guide to give you all the tips you need when considering how to buy the perfect carpet or rug.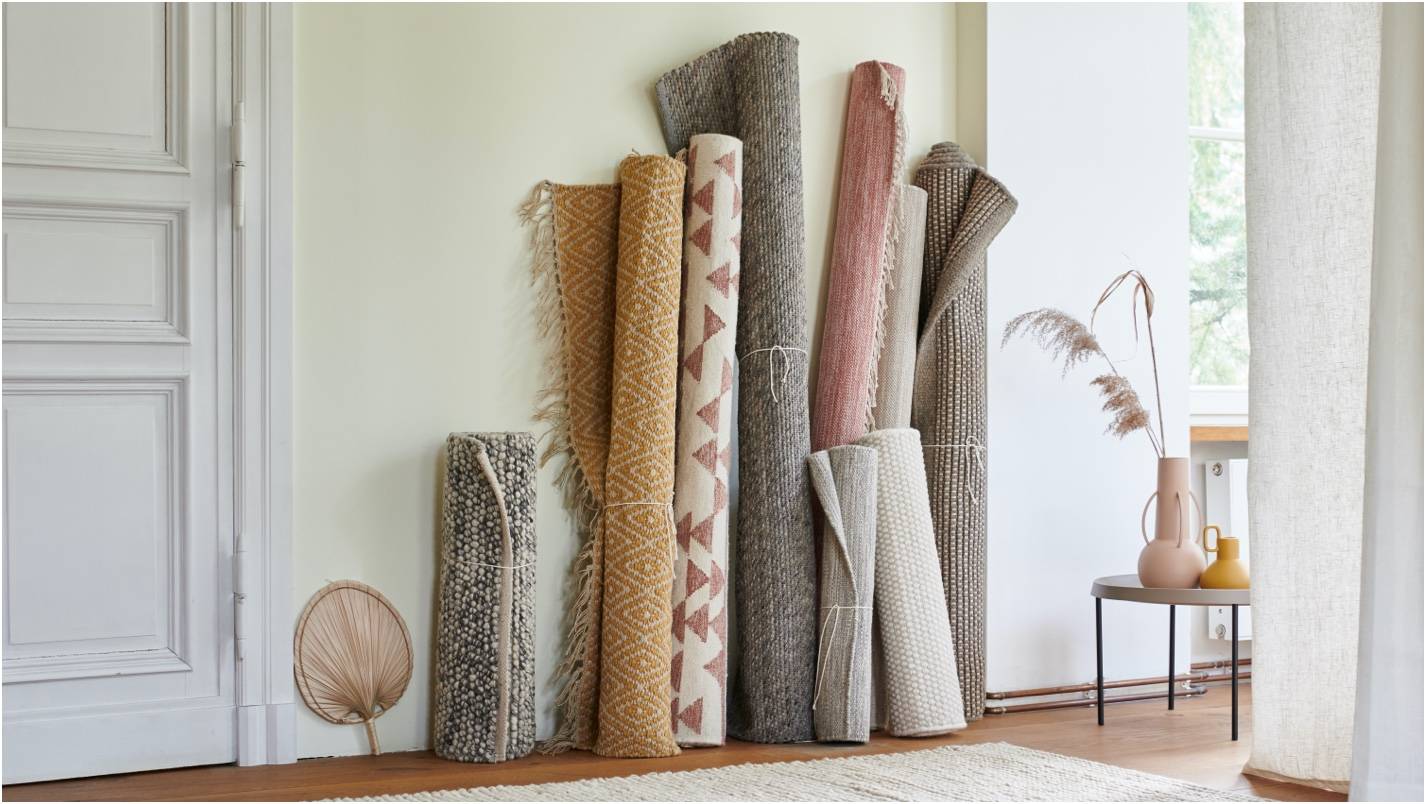 How to choose the perfect rug...

One of the first things to consider is what type of rug you want for your home. We place our rugs into 3 categories; traditional rugs, rug runners, and circular rugs.
Traditional rug: Traditional rugs are normally rectangular, and cover a much greater surface area than runners or circular rugs. They're an ideal option for living rooms, bedrooms or larger open-plan spaces within your home.
Runner: A runner is longer than it is wide, an ideal option for a hallway or narrower spaces within your home. Runner's can provide an elevation to a space that would usually remain empty.
Circular: Circular rugs are perfect for adding a finishing touch to your space. As they're usually much smaller than traditional rugs, or runners, they're ideal for areas with limited space.
When looking at which type of rug is right for you, it's important to consider both the room and the placement of your rug. We'll cover this next.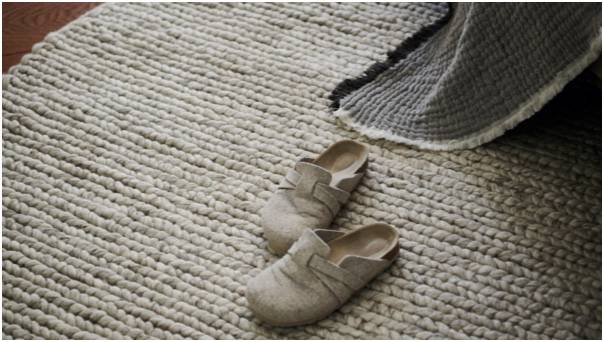 How big is your room? How much space do you have?

Arguably one of the most important things to consider when buying a rug for your space is not only knowing the room or area your rug will sit in, but knowing the placement within that space is vitally important too.
Knowing where you'll place your rug will ultimately allow you to make the best decision on what type of rug is best, what materials and textures you want, and the size of the rug.
A rug picked for one particular space, say, a larger statement rug for a living room, can help complete the whole room. However, a multi-functional, smaller rug that can blend into different spaces within your home provides some extra flexibility when switching up your interiors. URBANARA rugs run from our smallest size (90x130cm) to our largest (300x400cm), so finding the perfect rug for your space, that fills it just the right way, has never been easier.
A perfect rug needs the perfect texture...

When choosing a rug, selecting the perfect material is paramount. Whether you're looking for a rug that's wonderfully soft underfoot, or one that's a little more robust, knowing how you're going to interact with your rug will go a long way when choosing the ideal material.
In this section, our carpet material guide will help you deep dive into what material is right for you. The right rug material is also key to the space you're placing it - are you looking to place your rug in spaces with heavy footfall, or will it be more of an aesthetic piece, underfoot less often?
Wool rugs are extremely robust and are ideal for areas with heavy footfall; they're also an ideal choice for outside spaces, just don't leave them out there in periods of bad weather - we definitely wouldn't recommend that. Wool is also extremely good at trapping heat, perfect for those colder months.
Cotton rugs are wonderfully soft underfoot, making them an ideal choice for living or bedrooms, whether it's for you or your little ones or any area where you need an addition of comfort. Cotton rugs are an ideal year-round option, whilst they don't retain as much heat as wool their soft nature means they're a versatile addition to your space.
Jute rugs are also versatile and robust. A jute rug - similar to wool - is perfect for those areas that receive extra footfall. The natural robustness of jute means it stays strong despite extended use, giving you a piece to be part of your home for years. Jute's natural tones make it ideal for spaces that need a neutral, earthy addition.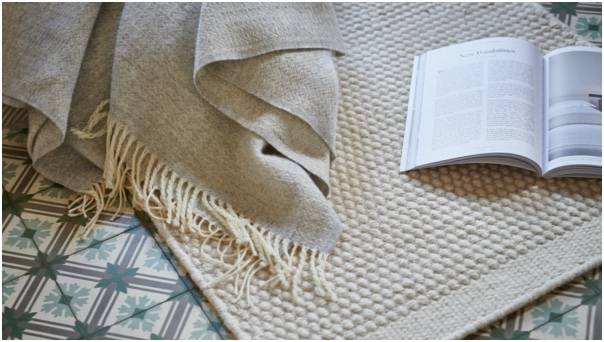 Finding the ideal size rug for your space...

As we touched on before, knowing how much space you have can influence your rug choice. It may seem obvious to check the size, but you may find that even though a rug will fit within your space, it might not give you the look you require.
Your rug needs to complement your space, not dominate it, nor should it be too small that it just floats without purpose. We always advise double-checking your dimensions to know how much space your rug will need and how much space you'd like your rug to fill.
Finding the perfect, pet-friendly rug...

It's important your furry (or maybe not so furry) friends love your rug just as much as you do. When choosing your rug, consider how your pets will interact with it. Will it be somewhere they decide is their new favourite place, or somewhere less accessible.
The colour of your pets' fur is also an important factor when weighing up your rug options. Dark fur on a lighter rug is more likely to show, so we recommend factoring in your pet's fur when looking at your colour choices. Plus, rug's with a prominent pattern are even better at concealing those rogue hairs.
If you need a rug that's suitable for your pet to interact with a lot, a wool rug is a soft, yet robust option that is also easy to clean. Both jute and cotton rugs also make excellent choices as they're soft but robust enough to withstand everything your four-legged friends can throw at it.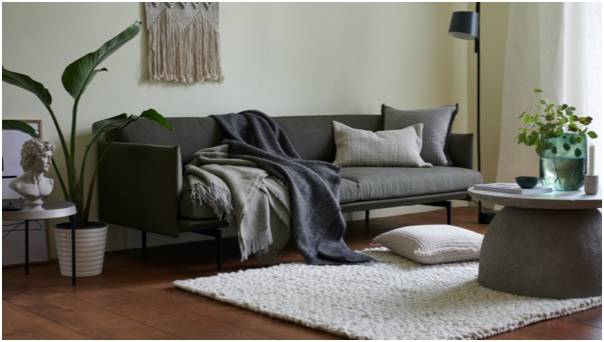 Your rug's design makes all the difference…

The design of your rug is one of the most fundamental factors when selecting your piece. A neutral, minimal design can give you more flexibility when it comes to switching up your space, but a rug with a bold design or pattern can really accentuate your interior.
When looking at what design to choose, consider your colour schemes and placement. Consider whether you need a rug to tie your space together, or whether you need something that plays a more central role as a feature.
And if you have pets, don't forget a pattern is great at hiding those pesky stray hairs.
Choosing the right colour for your rug...

A rug can help to balance colour within your space. The versatility of a rug can help both complete and offset your interior. It's important when choosing a rug colour to understand how it will work within your space. Too much of one colour can cause an imbalance, whereas the wrong colour can make your space look disjointed.
How you want your room to not only look but feel will also impact your colour choices. For a lighter, airier space a more neutral coloured rug will work best. For a cosier atmosphere, darker rugs will be your go-to choice.
Consider your existing colour palette when looking at choosing a rug colour. If you can, start with the rug and build your space around that - this can give you some additional inspiration and make it easier to create your ideal space.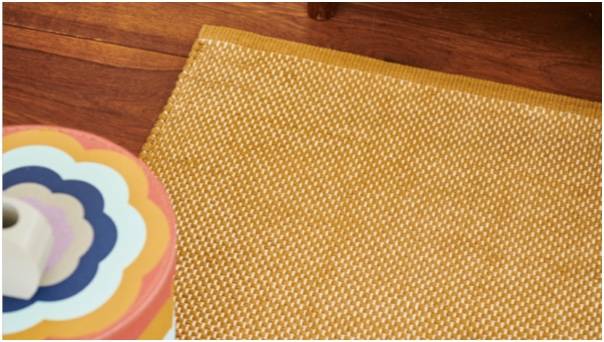 Your final considerations...

Some final things to consider when you're choosing your rug are your lifestyle, whether you're likely to move and rug maintenance.
If you're likely to move, a smaller, lighter rug may be the ideal choice instead of opting for a more heavyweight piece. This is also worth considering if you're someone who likes to switch up your interiors often; if you do, a rug that can blend into multiple spaces might be a more suitable choice.
Rugs are pretty robust, and they're designed to withstand a lot - but even the most robust of rugs need a little care every now and again. Consider how much time you can dedicate to maintaining your rug, some are a little easier to care for than others, but all rugs are pretty good at holding their own.
Add the perfect finishing touch to your room.