Hemp fibers are made from the bast, i.e. the stem, of the hemp plant. In ancient China and the Middle East, hemp fibers were used around 8000 BC where they were used for textiles, fishing nets and ropes. No wonder, as the hemp fibre is particularly robust and durable. The cultivation of the hemp plant is quite uncomplicated and, compared to cotton, more environmentally friendly: hemp requires around 30% less water in cultivation, around 25% less water in processing and can be harvested up to three times a year. Since the plant naturally repels pests, little or no pest agent is required, and fertilizer is hardly required. Hemp is also completely biodegradable, so it is much better for the environment.
As a robust fibre, hemp is predestined for processing into carpets and rugs, such as our Naya or Sankra collections. Since hemp fibre is mould-resistant and always stays in shape even when it's damp, hemp rugs are ideal for spaces such as kitchens or bathrooms. Due to its positive climatic properties, the hemp fibre is particularly suitable for bedding, because it has a temperature-regulating effect and can thus keep you warm in winter and cool in summer. Both our Apno duvet and Art pillow are filled with 50% hemp fibre and 50% corn fibre - another environmentally friendly material. Giving you a natural, sustainable and completely vegan alternative.
Depending on the product, different types of hemp fibre are used. The robust fibre is used for our carpets, which is reminiscent of jute in its feel but is a little stiffer. However, with every wash, hemp becomes more supple. A fluffy, soft type of hemp fibre is used for the filling of our bedding so that you can envelop yourself in complete comfort.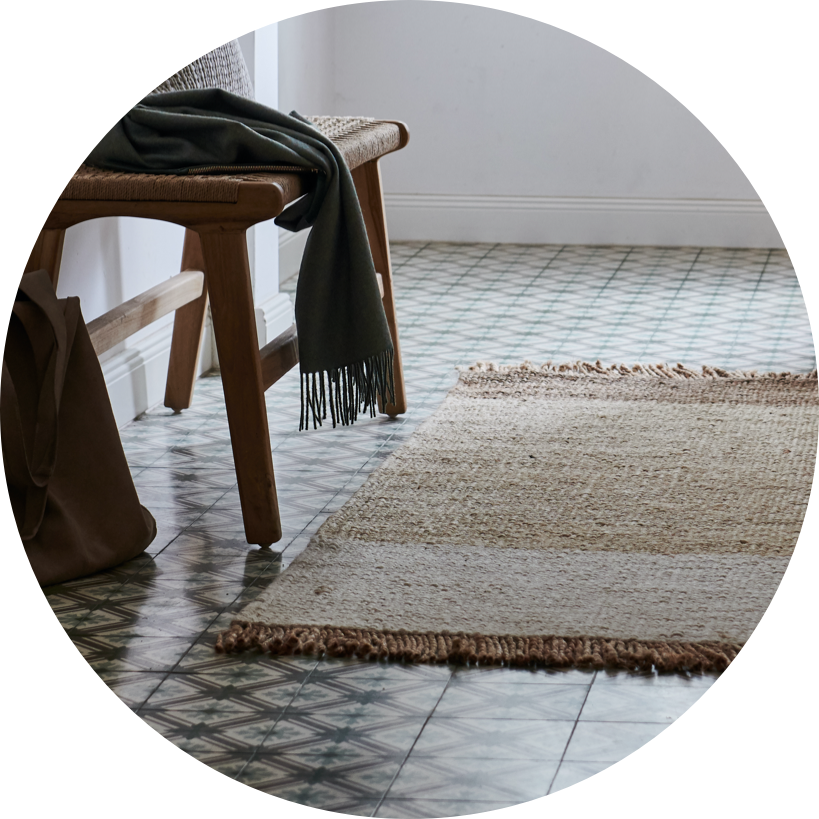 Our bedding filled with hemp fibre can be aired in the dryer or in the sun about every three months or as required. Please only wash at 30°C on the delicate cycle. Not suitable for the dryer.
Main characteristics of hemp

✓ Antibacterial & antiallergenic
✓ Breathable
✓ More sustainable than cotton
✓ Temperature regulating